Fun Race 3D mod + apk 1.9.6 Skins Unlocked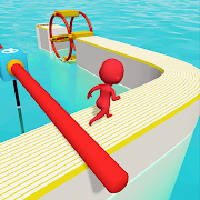 | | |
| --- | --- |
| App Name | Fun Race 3D |
| Genre | Race |
| Developer | Good Job Games |
| Size | 94.4Mb |
| Latest Version | 1.9.6 |
| Mod info | Skins Unlocked |
| Update | October 17, 2022 (1 months ago) |
Description of Fun Race 3D
Fun Race 3D is a parkour sport simulation game. This is where players experience hundreds of different unique levels. Download this game to join the race with many other gamers, conquer many levels and unlock many new characters.
When playing this game, the Parkour-er must control the speed very well to be able to overcome the obstacles arranged along the track. In here, you not only need to defeat many other opponents, but also have the task of overcoming obstacles. That speed is a key factor that can help people win.
Besides, players need to stop at the right time to be able to overcome obstacles like spinning propellers, giant rotating hammers or pendulums. At each race, you will be competing with 3 athletes. And whoever is the first to finish will be the winner to compete with the next people.
Fun Race 3D offers hundreds of different tracks and players will not be able to guess what their next race will be. Everyone might be surprised to see unique challenges that await on the track ahead. During the race, the player who will be unlucky to be defeated by the obstacle will respawn and continue the competition.
Download Fun Race 3D Mod Apk - Explore the exciting race track in the virtual world
This is an extremely fun Parkour game where everyone will have to overcome all other opponents to reach the finish line first. You should not take too much risk, because maybe just because one small mistake will cost you everything. Therefore, make sure all obstacles are cleared.
If you can control the timing of the obstacle in front of you well, then have to look further and see the time of the next obstacle. To be able to run continuously and not spend too much time waiting like before, players should constantly pay attention to when there is an obstacle, instead of just paying attention to every detail of the current obstacle.
Try to defend the lead
If you are the first to lead the race, players need to be a little more careful because just one mistake can cost them the upcoming victory. That means, when you are not sure if you can overcome an obstacle, there is no need to try to overcome it. You don't have any reason to take risks when you're in a near-winning position, right?
If you're already in the back, don't be afraid to take the risk. And if you are at the top of the race, be careful, because it can make you lose the ability to win that you are holding. But if you are in the following positions in the race and there is a great possibility of losing, do not be afraid to ignore all dangers and move forward.
Give ice cream to get more bonus
Every time you complete a level, players will receive valuable rewards. Fun Race 3D is not an ordinary race like everyone has experienced or often seen, players need to bring as many of their characters as possible.
Players will start with a large number of participants and try to get as many athletes through the obstacles of this game as possible. Keeping each character to the finish line, participants will receive 10 coins. Therefore, to earn more coins, you need to bring as many athletes to the finish line as possible.
Parkour gamers will have two ways to find coins in Fun Race 3D. That is, being able to watch cable videos in the product area that the publisher sets out to receive more coins. Click on the character-like icon and a small icon showing 75 coins and a play button will appear at the top of the interface.
Besides, if you don't want to waste time earning coins, but want to upgrade your character really well, then why not be shy without downloading Fun Race 3D Mod Apk version to your device right away. This version has been Modified with unlimited coins for Parkour-ers to enjoy updating and buying the characters they like.
Athlete's outfit is extremely eye-catching
Gamers participating in this game will be allowed to choose skin color, face, body shape, or even featured dances in the game store. Since the number of athletes that the players control is quite large, equipping the athletes is a fun activity and makes the Fun Race 3D game more interesting than ever.
This new game will give players beautiful outfits. Some skins are themed and next to them are some costumes of famous characters like Spiderman, Deadpool or Flash.
The skins are extremely beautiful with the highest cost of 350 coins. It won't take you too long to earn that money and buy the best skins for your athletes.
Epilogue
Fun Race 3D is an attractive and engaging game for gamers who love challenges. This game will bring players a lot of laughter, very suitable for entertaining in their spare time. Don't forget to leave a review after you've experienced this game!
User Reviews
Write a Review
We gather comments to provide users with the latest information.